-
by MICHAEL WOLF

March 5, 2020
The Spring Break Art Show, is a curator-driven fair that began almost a decade ago in run-down St. Patrick's Old Cathedral School in Nolita. It has since moved uptown to a slick corporate building on Madison Avenue. Using its Madison Avenue address as inspiration organizers, Andrew Gori and Amber Kelly decided on the theme In Excess. In the fair's application, the pair explained the theme this way:

"In Excess seeks curatorial proposals that explore the pleasure of 'more is more.' The bigger, brighter, busier, the better' was once the zeitgeist with the intent to create, not a nauseous geegaw of consumer pleasures, but an impression that rattled complacency—generating, instead, awe, surprise, wonder; a sense of the infinitude. Where is our awe with all this consumer excess, information detritus, technology worship? Where is the new Rocaille? Is it any good? Is it a spectre of Greed or Good? How much is not enough, and when is too little too soon?"

The duo encouraged curators to "Go For Baroque," and they did. With that impetus, we have Spring Break 2020. The following is a list of our top ten (ten curators and fourteen booths, listed in no particular order). The curators went for "Baroque" and have offered up over the top immersive installations and artworks. See what the curators and artists have to say about them.
---
Booth 1029 – The Breathing Room
Artist: April Marten
Curator: Monica King Contemporary
Monica King Contemporary is one of the hottest new galleries in a wave of new galleries that have recently opened in Tribeca. Monica King opened the gallery with the exhibition Frances Wasn't a Saint, a multi-media exhibition featuring the work of April Marten. They bring Marten to Spring Break with her interactive installation, The Breathing Room. The Breathing Room conjures images of overflowing, manufactured abundance for mass consumption providing quick and fleeting pleasures that slowly transmute to permanent decay.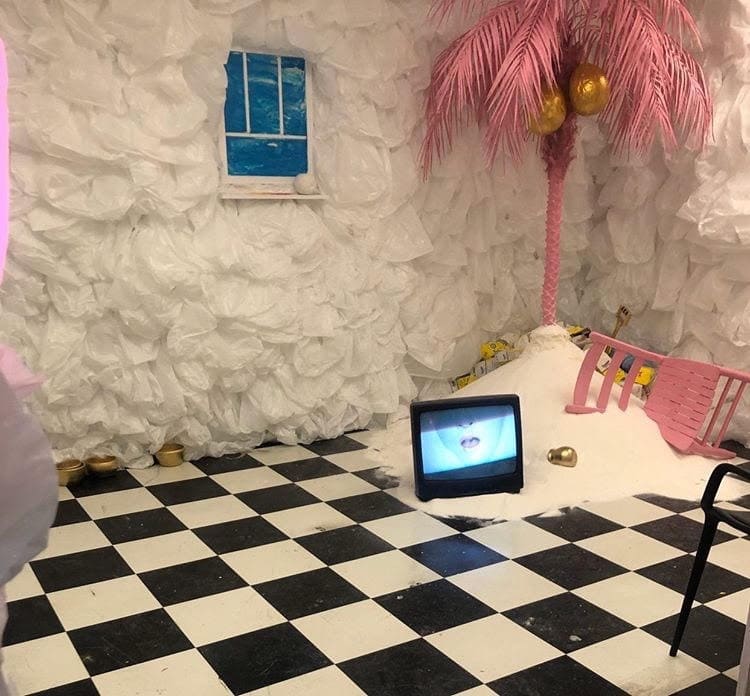 ---
Spring Break Art Show is being held at The Atlantic Production Center 625 Madison Ave. NY, NY
General Admission is March 4-9 11am- 8pm.
You can purchase tickets here!
March 5, 2020